Frequently Asked Questions (FAQ) about Nauti-GLIDE
HOW MANY Systems do I need?
The Nauti-GLIDE System is sold in pairs. One for the midship cleat and one for the aft cleat.
What MATERIALS make up the system?
Nauti-GLIDE is made of 6061-T6 aluminum structure, 316 stainless steel assembly components, and UV resistant material.
What are the DIMENSIONS?
The overall dimensions of the standard glide are 3" x 3" x 18" (Also available in 12", 24", 30" lengths) the height distance between your boats cleat and the rub rail determines the appropriate length of the glide. The aluminum I-Beam is 2.5" x 3"x 8.5'
What is the CLEAT SIZE?
The standard cleat is 10" and made of aluminum.
What DOCK LINE size should be used?
The recommended size of dock line to be used ranges from ¼" minimum to ½" maximum. The typical size used is 5/16" or 3/8". The reason for the smaller diameter is due to the limited stress being put on the line because the boat is unable to move in the horizontal directions, and the glides move with the boat in the vertical direction. This greatly reduces the stress on the dock lines.
What COLORS are available?
At this time, Nauti-GLIDE is supplied in silver aluminum. In the future the aluminum glide will be available in standard anodizing colors.
What TOOLS are needed?
Depending on what you are fastening the Nauti-GLIDE System to, it can be installed using a cordless drill, level, tape measure, drill bits, socket set or wrenches.
Do you PROVIDE INSTALLATION?
Not at this time.
What is typical MAINTENANCE?
The system in virtually maintenance free. At the beginning and middle of each season, check all visible screws for looseness [top and bottom caps (4 bolts total), cleat bolts (4 total)]. If they are loose, tighten them back down. Check the glide lock rubber stopper (visible from the top of the glide while it is off of the post). If it is severely cracked due to aging, or missing, order a replacement from KJM and replace the stopper.
What about WINTER STORAGE?
What should I do for winter storage? You have a choice of either leaving the glide on the post, in which you move the glide to the desired height, preferably well above water level, and engage the lock. The other option is to store the glide out of the weather. To do that, loosen the set screw on the top cap. Remove the top cap, and pull the glide off of the I-Beam. You can then put the top cap back onto the I-Beam and tighten the set screw, or you can also store the top cap with the glide, out of the weather.
---
Information on how Nauti-GLIDE works
Information on how to install Nauti-GLIDE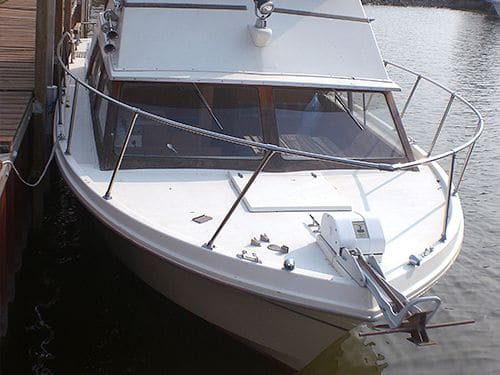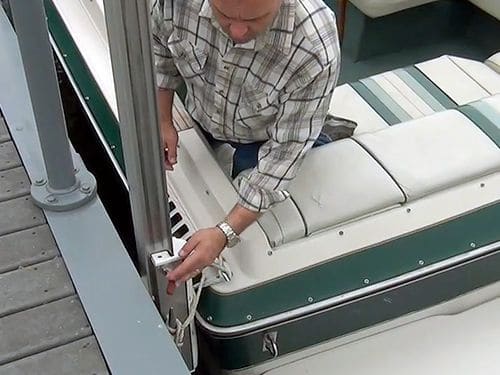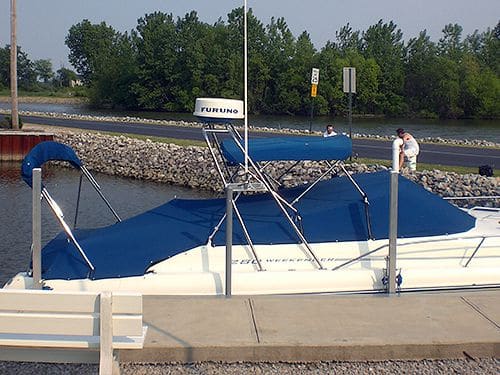 MADE IN THE USA