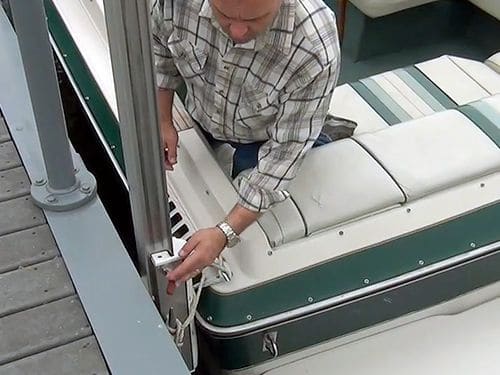 How to install Nauti-GLIDE
Position the boat to the dock where you want the boat to be tied. Make sure you have adequate space for the system and the boat. You want to be able to easily maneuver into and away from the system. Also make sure you can mount the I-Beams where the cleats are currently located. If not directly, you will need to obtain additional materials to support the I-Beam in the desired location.
Mark the position of the cleats, either the length of cleat or the center line of each cleat to be used, on the dock to show where you need to mount Nauti-Glide.
Determine the height of the I-Beam. To do this you will need to know what is lowest the water level the system and your boat will encounter during the season. You should also know if your location is in a flood plain and what is the maximum water height the system will see. This information will provide you a good approximation to the height requirement at the top surface of the dock.
Determine the size of hardware to be used to mount the I-Beams, and at what locations on the I-Beam (minimum of 4 places). Use a drill bit that is 1/16" larger than the chosen size bolts to be used to mount. Drill the holes in the rear flange of the I-Beam for the mounting hardware. (Recommended sizes are 5/16" minimum to 1/2" maximum bolts)
Place the I-Beam into the desired location, making sure it is leveled. Mark the locations of the holes on the dock. Drill the appropriate size holes needed to mount the I-Beam.
Attach the I-Beam to the dock.
Repeat Steps 4 thru 6 for the second I-Beam.
Put the eye of your dock line thru the desired cleat on the glide and wrap around the cleat.
Slide the Glides onto the I-Beams and lock into place.
Place the I-Beam top cap onto the I-Beam and tighten the set screw.
Tie you boat up tight to the glides to determine the length of line needed. Shorten your dock lines to the desired length.
DO NOT drill into Cason Floating Docks. Use other methods of attaching the I-Beam to the dock.
---
Information on how Nauti-GLIDE works
Information on how Nauti-GLIDE is made
Information on how to install Nauti-GLIDE
MADE IN THE USA