Nauti-GLIDE system is the better way to secure your boat
Safety getting on or off
Secure tie up during storms
Fast, easy tie up
No need to get off your boat
Patented sliding design
The Nauti-GLIDE Mooring System is a better way to tie off your boat. Nauti-GLIDE is a patented boat tie-up system that provides safe and secure dock tie off for pleasure boats 20 – 60 ft. The system consists of a pair of marine grade aluminum GLIDEs with cleats that allows boats to safely weather the ups and downs of changing water levels. The patented GLIDE design eliminates the need for dock line adjustments due to changes in water level, while making the process of tying off easier by being right where you need it.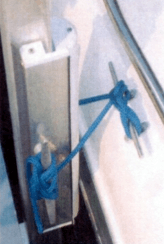 The Nauti-GLIDE system increases safety and accessibility by keeping your boat secure against your dock allowing easy boarding for all passengers and crew. No need to hold or pull your boat to the dock to help someone board. Storms, tides, close neighbor boats can provide a challenge to tying off a boat safely.
Nauti-GLIDE keeps your boat safe and secure. Not only does the system prevent damage and improve your safety, but it also allows you to dock and tie up your boat without the need to jump off to get the dock line or tie off to a cleats.
---
Nauti-GLIDE Mooring System
Information on how Nauti-GLIDE works
Information on how Nauti-GLIDE is made
Information on how to install Nauti-GLIDE
MADE IN THE USA